wdp receives first place at Best of Consulting Award 2019
After successfully participating in the Best of Consulting competition of German business magazine WirtschaftsWoche in the years 2016 and 2018, wdp has again been awarded in 2019. This year we were honored with the first place in the category "Marketing and Organization" as well as with the rating "Excellent" in the category "Strategy".
2019 for the 10th time German business magazine WirtschaftsWoche awarded Germany's best consultants in the Best of Consulting Mittelstand. For this award, a professional jury assesses the customer benefit of the handed-in projects. wdp was able to convince the jury with a project in the category Marketing and Organization and won the first prize. In addition, wdp earned the rating "Excellent" in the category Strategy.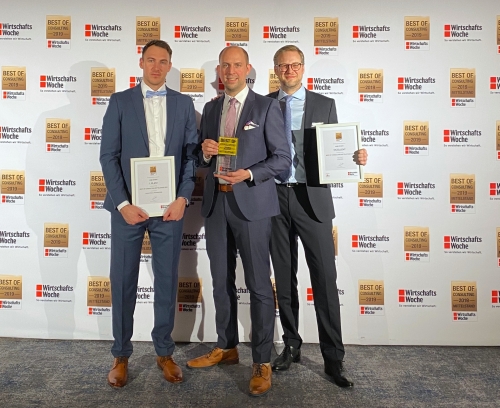 The winning project: Establishing digital direct selling for a manufacturing company
The customer – a manufacturer of building materials – was selling its products exclusively b2b, and used traditional sales chains as well as wholesalers for their b2c business. Some of the distribution partnters were already earning millions with our customer's products on digital platforms. This potential, our customer wanted to lift himself. Together with wdp, our customer established digital direct sales via their own webshop as well as several market places.
Already during the first three months, both the webshop and the amazon marketplace that were established by wdp achieved a six-figure turnover – corresponding to 40% of the planned annual turnover. Besides the digital direct sales wdp also created marketing channels as well as digital competency for the company. Thereby, further growth is well enabled.
The project that was awarded with the rating "Excellent" in the category Strategy dealt with the creation of a digital strategy as well as a roadmap on how to implement this strategy for an energy supplier.